Current Wildflower Havanese
Our adult dogs are fully health tested according to the recommendations of the Havanese Club of America (HCA). In addition, we register our adult dogs with the American Kennel Club or the United Kennel Club, with some being dual registered. We test our dogs annually with the Canine Eye Registration Foundation (CERF). We also test for Brain Stem Auditory Evoked Response (BAER), and we obtain certification of their hips and patellas with the Orthopedic Foundation for Animals (OFA) and have blood work run to assess liver and kidney function.
AKC, UKC, International BIS Champion,
Three Times Best In Show
Wildflower's Flibbertigibbet Cricket Novice Sprint Champion
2015, 2016, 2017 & 2018 UKC Top Ten.
"Cricket"
Cricket is a dog of a lifetime. The culmination of my breeding program so far, she embodies the Havanese spirit combined with great athleticism. She is a wonderful girl with an amazing spirit.
2014 UKC Top Ten Havanese in the Nation (ranked fourth)
CH Blonde Ambition at Wildflower
"Bonnie"
Bonnie is sugar sweet! This girl is so attentive and easy to train. She was a delight in the show ring, as and still is a delight at home. She's the perfect blend of good looks and gentle temperament.
Mystykalsky's Mighty Mocha Joe
"Mojo"
Our current breeding sire, Mojo is no longer living with us at Wildflower Havanese -he's now living the farm life with Aubrey and Andreas.
Mojo is currently earning his stripes in obedience and chicken herding under the tutelage of Aubrey on the homestead at Cacophony Ranch.
A Walk Down Memory Lane - Retired Wildflower Havanese
Our retired Havanese no longer live with us, and instead are placed around the country. These amazing dogs have left us with an amazing legacy, and we are so proud of them.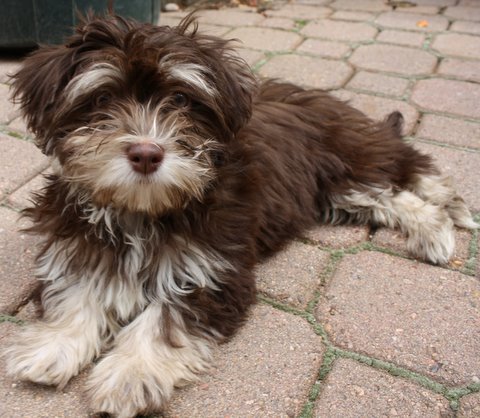 Mystykalsky's Miss Lexie
"Lexie"
Living with Anna.
Born in New Brunswick, Canada, Lexie produced gorgeous puppies for us. Lexie has a wonderful spirit and is playful and full of vitality. The first time she entered a show ring, she won Best in Show, Novice Puppy, at a 2009 UKC show.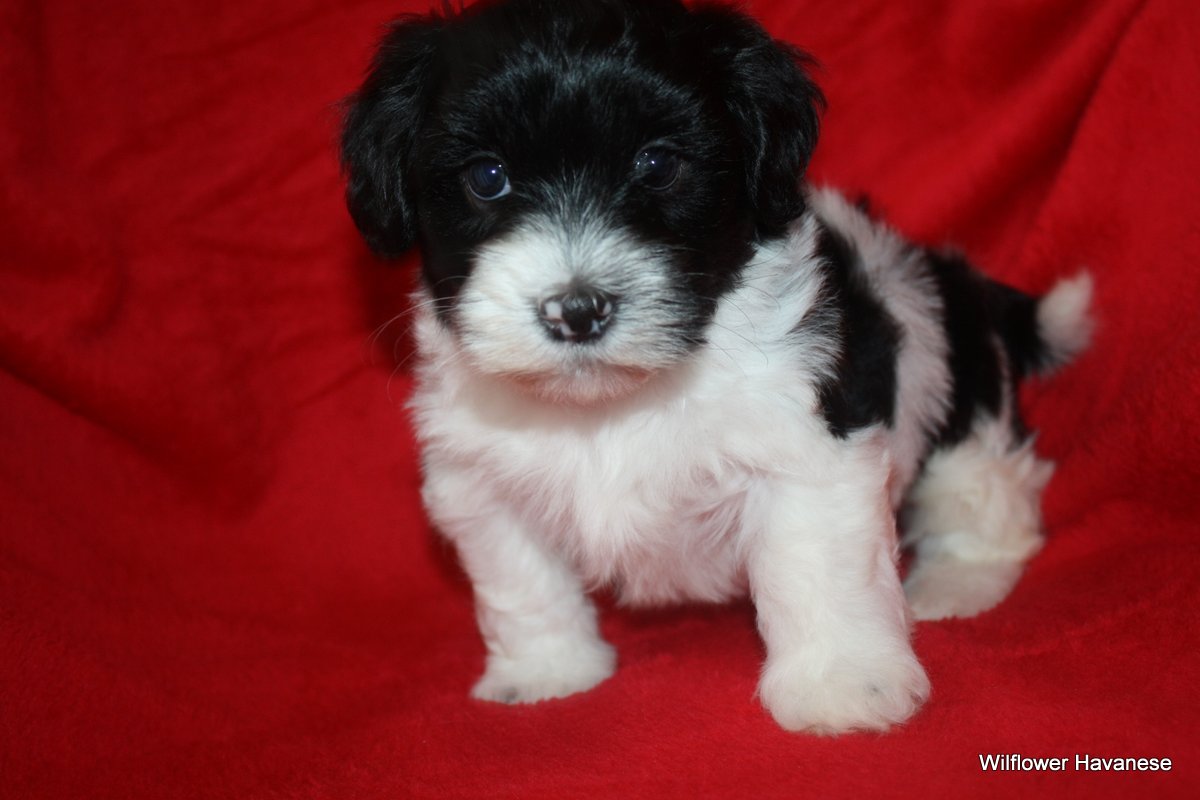 UKC CH, BIS International Puppy CH Wildflower's King of Ping Island
"Kingsley"
Living with Gayle
View Pedigree
Normal CERF, BAER, & patellas.
Preliminary test on hips normal.
Kingsley is brimming with personality and is just a delight. What a love!
UKC CH, AKC major pointed Twin's Lady Chloe at Wildflower
Living with Gayle.
"Chloe"
This amazing girl was the most giving of our Havanese. This gentle darling delights in gazing deeply into your soul. She is simply beautiful.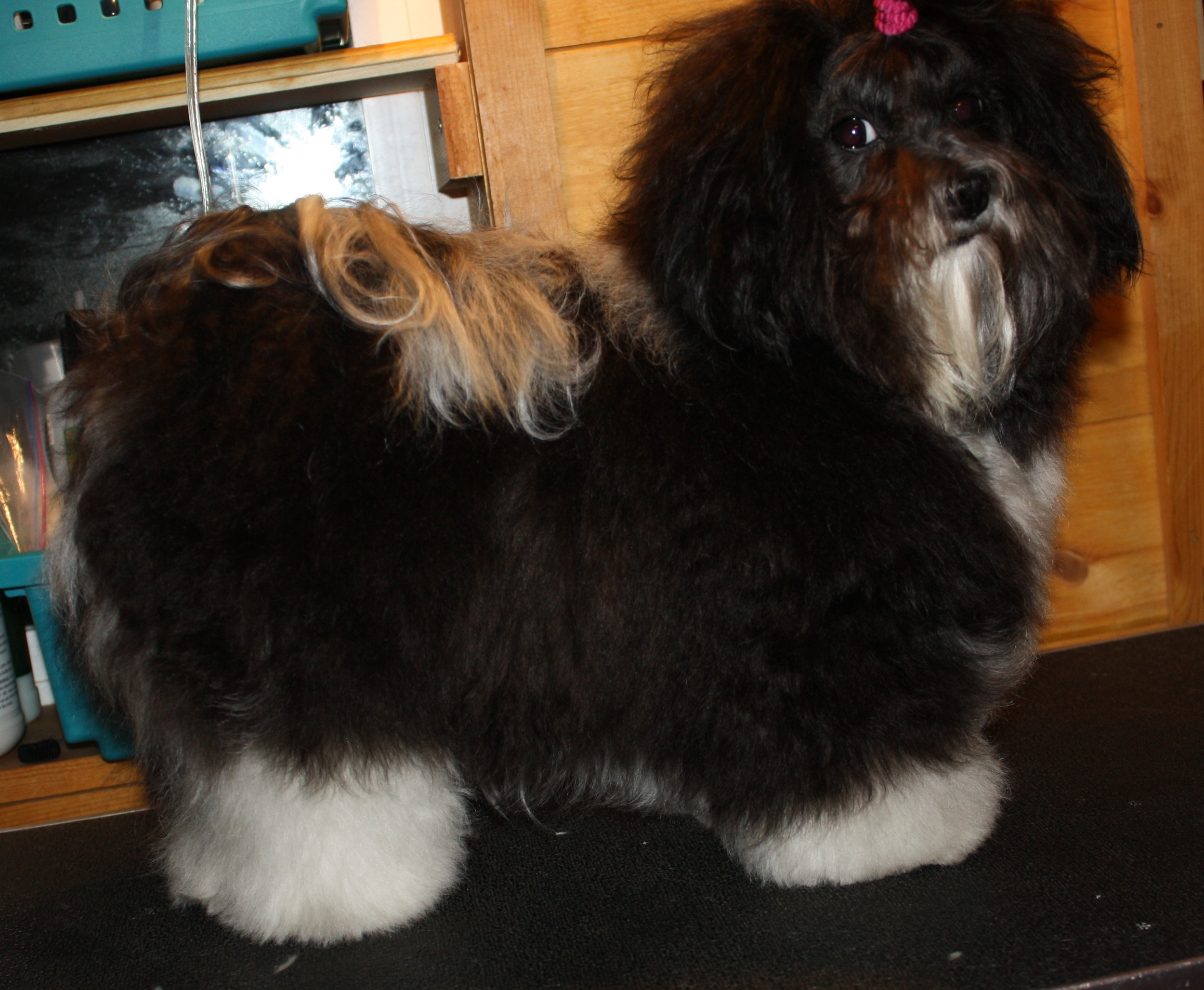 BIS UKC CH, International CH, AKC Major pointed, Twin's I've Gotta Be Me at Wildflower
Living with Aubrey and Andreas
"Sammi"
Sammi is an amazing dog, always up for fun, and is oh-so-sporty. Her classic good looks and terrific movement made her a joy to show, and her show success speaks for itself in the picture below.
Sammi is loving life at Cacophony Ranch with Aubrey and Andreas Suter. She is a master of tricks and knows just how to delight her audiences.
CH Calypsos Queen for a Daisy - - - AKC Champion
"Daisy"
Sire: Rocking H. Clark Gable
Dam: Silverdale Calypso's Piper
Click here to view pedigree
Click here to view OFA Health Tests - CHIC #35893
Daisy was the first Havanese and show champion at Wildflower Havanese. After producing many wonderful puppies and having great success in the show ring, Daisy has started a new career as a therapy dog in Boulder, Colorado.
CH D'Va's Mars Moon Runner - AKC/UKC Champion
"Soji"
Registered Name: CH D'Va's Mars Moon Runner
Sire: Champion Tapscott's Shoot'n D'moon CD
Dam: Champion Couture's Panda Bear Tapscott
Click here to view pedigree
Click here to view OFA Health Tests - CHIC #36004
Soji was the #1 Havanese in America, UKC, for 2007.
Soji is a happy, mellow fellow, very relaxed - the strong silent type, but a lot of fun. He is the cherished sidekick of Mary in Evergreen, CO.
Wildflower's Waltzing Matilda
"Tillie"
Sire: Champion Noble Prinz of Night Blue Temptation
Dam: Champion Calypso's Queen For A Daisy
Click here to view pedigree
Click here to view OFA Health Tests
BAER Hearing Test: Normal
Tillie achieved a major win in an AKC competition at 6 months old, her first time in the ring. Since then, she has produced wonderful puppies. Now, following in her mother's footsteps (Daisy), Tillie has started a new career as a therapy dog at the Western Slope Center for Children in Grand Junction, Colorado.
CH Wildflower's Witch Hazel Sabrina - UKC Champion
"Sabrina"
Sire: Sun City's Hercule Poirot
Dam: Champion Calypsos Queen For A Daisy
Click here to view pedigree
Click here to view OFA Health Tests CHIC #43048
Sabrina was #3 in the nation in 2007 in UKC.
Sabrina is Wildflower's first bred-by-owner girl. She has a lot of personality and knows her way around the show ring. She is highly devoted, elegant and charming. After giving us some of our most beautiful puppies, Sabrina retired to a wonderful new home in Highlands Ranch, Colorado in March 2011. Thanks to Lauren and Barbara for loving this sweet girl.
Mystykalsky's Lookie - International, French and Spanish Champion
"Mikko"
Click here to view OFA health tests - CHIC #72901
Mikko is from France, originating from Canada. He has a wonderful temperament and fabulous structure, as you would expect.
Mikko recently retired to a fine new home, after having fabulously successful careers as both a champion show dog and a sire to some wonderful puppies.